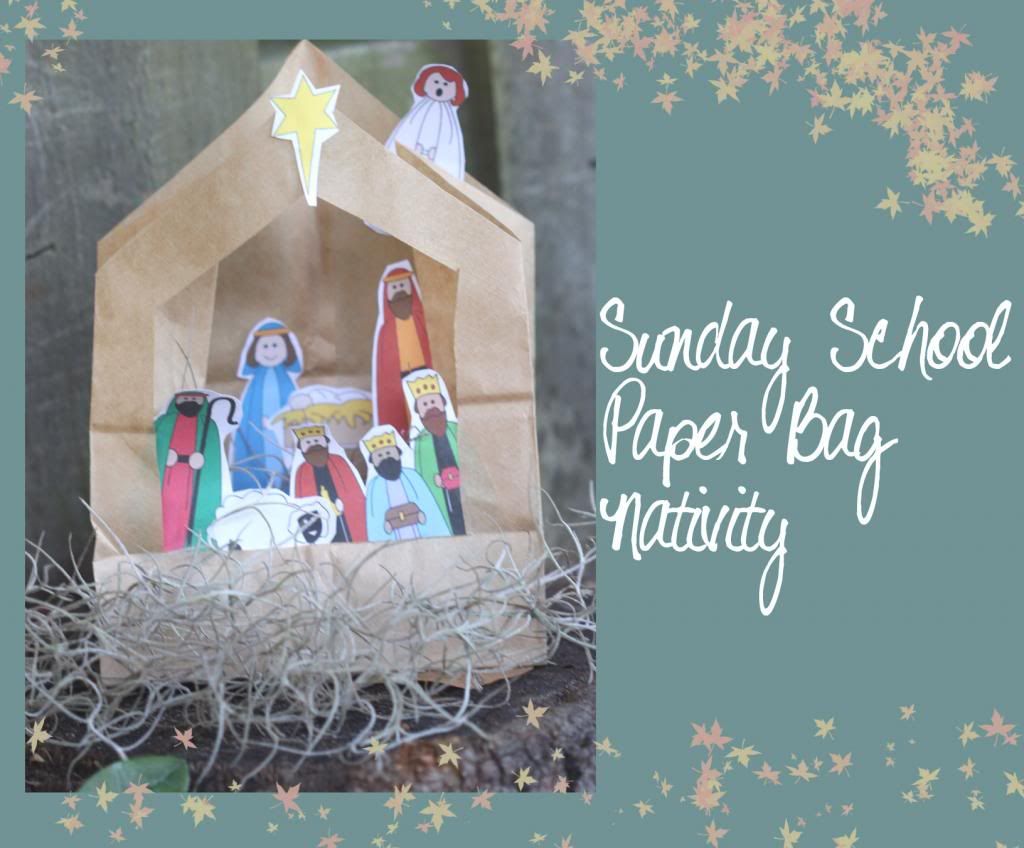 It is Christmas time, and in an effort to promote the true meaning of Christmas, I am going to share a nativity craft.  I teach Sunday school to kids ages 6 to 8.  I love to have a little activity to go along with the lesson.  Here is one I thought I would share with you.  It is great because it is cheap, quick, and super cute.
What you will need:
brown paper bag
scissors
glue or tape
nativity cutouts
I used some found here
or Google "Nativity" or "Nativity Cutouts"many are black and white for coloring
or you can have children draw their own characters, (make sure you have ample time if you choose the "Draw your Own" option)
If you're feeling VERY ambitious, take pictures of your favorite nativity, print and cut from there
Extras: Not needed but adds pizzazz!
Burlap or hey (dry grass works, I used Spanish Moss, because it's free and EVERYWHERE!)
A tea-light or flashlight to place in the bottom of the bag (it gives the nativity a beautiful glow at night)
Glitter/ sequins, anything!
Making the Nativity
Cut out your nativity people first, then set them aside for later
Fold your paper bag in half (Long Way)
Cut on an angle STARTING on the side where the two ends meet
If you cut on the wrong side (I did that) your manger will look like the one on the right below
Open the bag and choose which side you would like to be the front
Fold ONLY THE FRONT portion in half (you will not be able to fold the whole thing, that's ok)
Cut out a triangle making sure to leave a nice strip of brown at the top (this was very difficult to photograph while my little one was trying to jump on my head–but here's what it looks like)
Unfold, and check the shape, if you want to tweak it a little, trim more away, here is mine trimmed
The Cutout should have a nice "House" shape and be framed by a small strip of the the paper bag
Now you are ready to add the important people in the scene, I placed the star and angel on oposing sides at the top
 You can fold some of the characters as shown then glue them in the middle
Place the cut-outs however you like, I put baby Jesus in the back because I wanted to eye to be lead to the most important part!
Important Notes:
You may want to pre-cut your nativity and bags so the children can enjoy putting it together.  Kids can get a little frustrated with intricate cutting.  If you want more sturdy cut-outs, print on cardstock.  Use the folds in the bag to place your cut-outs, it creates deapth and a 3-D feel.  Have fun!